by Carlo Antonio Chua on May 15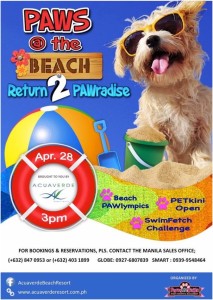 A second installment of the very first successful Pet Beach event held at the Acuaverde Beach Resort, along the crystal clear waters and pristine white sand of Laiya, Batangas. This pet-friendly resort aims to provide discerning pet owners a worry free vacation, offering its amenities to the pets and owners alike. Hence, the launch of a second series of this well received event to promote a fun-filled bonding between the pets and their owners, for an enjoyable weekend outside the hustle and bustle(not so clean air) of the metro.
Event highlights are as follows:
"Beach PAWlympics" which consisted of:
A mini agility challenge
500m dash
20m swimfest
"PETkini Open"
A beach fashion show for the dogs and their owners to showcase their most creative bikini outfits.
"Swim Fetch Challenge"
An excitingly fun swim and retrieve game for these rascals to play fetch, with freedom and joy!
"Digital Scavenger Hunt"
Scavenging for awesome treats have never been this fun. Who knew that dogs could be tech savvy like their masters? It's a fun way for the pet and their master to bond.
"My Pet SuPAWstar Talent Show"
Think of America's Got Talent but, the humans aren't the stars of this show. No. It's their four legged furballs who're doing all the showboating of their talents, taught by their owners. How cool is that!
"Scream for Ice Cream Eating Challenge"
Now it's time for the pet owners to strutt their stuff. Bring in the hot and humid weather and a ton load of ice cream to the party, these pet owners are sure to join in on the fun. If you thought this event was mainly for the pets, well think again!
"Sand PAWstle making contest"
A contest wherein the owners can show how much they love their pets so much, by "immortalizing" their pets in sand castle form. Until the salty beach water washes it away. But, you get the point. This is where creativity meets love and affection, thrown in one event.
Some photos of the event, to give you a clear visual of the fun and excitement that happened at the Acuaverde Beach Resort last April 28, 2017: