by Malou Darvin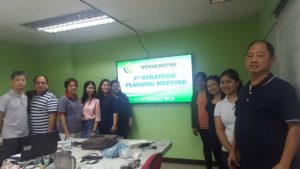 Wonderzyme, Inc. held its 3rd Strategic Planning Meeting last January 11-12, 2018 at the Conference Room of the Infarmco Group. Our Chairman 1TC attended the 2-day session, together with the WZI TEAM headed by its Consultant for Sales & Marketing, Malou D and OIC Operations Manager, 1MS.  WZI welcomed new Account Executive, Joseph Liban to the group.   
The strategic planning meeting has an objective of establishing the company's specific Goal, determining strategies, defining priorities and setting directions to achieving the goal.
1TC concluded the session with well-meaning message for the group to commit to the plan and implement the plan of actions with communication, commitment and credibility.